September 26, 2020
Entrepreneurs for a Bold New World
It's the end of the world as we know it. With a pandemic still raging across much of the world and months of protests against police brutality and racial injustice in the US and abroad, returning to business as usual isn't even an option in our post-pandemic future — business as usual is a thing of the past.
Which, in our opinion, is a great opportunity. The world today looks very different than it did earlier this year, when we first published Top 20 Entrepreneurs to Watch in 2020. None of us could have foreseen the particular manifestations of anguish and desperation unfolding around us, but COMMON was founded on the idea that such anguish is endemic to capitalism as we practice it.
To be even clearer: ALL of the problems we face are exacerbated by the structural flaws within capitalism.
Capitalism which has exploited Black bodies for over 400 years.
Capitalism which values people over profit and so ties the right to healthcare to the market (at least in the US).
Capitalism which treats our shared earth and its communal resources as value to be claimed, extracted and hoarded by the wealthy, at the expense of the rest of us — and the future.
It's easy to lose hope, to want to throw in the towel — to feel that our problems are too big and too complex to solve. It shouldn't be on any one of us to bear the weight of fixing our systemic problems, but it is.
The thousands of protesters thronging the streets this summer and the thousands of medical workers, grocery store clerks, volunteers sewing masks, etc putting themselves in danger are hope embodied. We want to point you at a few other places where we see hope.
COVID-19, and now this new wave of the Civil Rights movement, are revealing the structural flaws in capitalism like never before. Here are ten entrepreneurs we believe stand poised to begin filling the gaps — laying the groundwork for a new, better, more equitable system.
We're on the brink of a new world, and we believe these are some of the people who will usher us into it:
Tracie Dean Ponder, founder and executive director of B~Stem Project
Tracie Dean Ponder founded B~STEM Project in 2016. Her vision is to engage and empower young girls and women in business and STEM disciplines across all industries and job sectors. As an entrepreneur, educator, equality advocate, writer and filmmaker, Tracie is committed to providing impactful educational opportunities to help foster awareness, skill development and innovation among emerging talent.
This drive has taken shape in B~STEM's variety of free educational programs, which have impacted over 3,000 students and professionals thus far. Tracie is currently developing several online community-based educational platforms to increase B~STEM's impact and expand the organization's vision. B~STEM also provides extension programming for boys and girls through strategic partnerships with organizations, academia and corporations. Partners have included leading companies such as Google, CBS Entertainment, YouTube, Microsoft, Motorola, Samsung, RobertHalf, Technology and VidCon as well as organizations such as the Boys & Girls Club, Girls Who Code, EmpowHer and Girls Inc.
Most recently B~STEM is completing the development of several educational prototypes. Their goal is to find investment partners to help bring these dynamic products into the marketplace. Tracie and her team are always exploring and designing ways to make the important work B~STEM does scalable. For Tracie, it's all about equipping talent, particularly people of color, with the tools and skills they need to make their contributions to society and the world at large.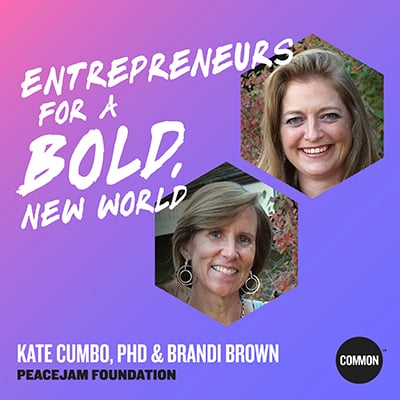 Brandi Brown + Kate Cumbo, PhD, President and Executive Director of the PeaceJam Foundation
The PeaceJam Foundation is on a mission to create young leaders worldwide committed to positive change in themselves, their communities and the world through the mentorship and inspiration of Nobel Peace Prize Winners. PeaceJam does this by providing young people with the mentors, tools and support to realize their potential and create an equitable, sustainable and just world for all of humanity and the planet.
The PeaceJam program was launched in 1996 to provide Nobel Peace Prize winners with a programmatic vehicle for working together to teach youth the art of peace. Since 1996, 1.25 million youth have participated in PeaceJam programs and conferences around the world, learning about and receiving mentorship from 14 Nobel Peace Laureates including the Dalai Lama, Betty Williams, Rigoberta Menchú Tum, Óscar Arias Sánchez, Archbishop Desmond Tutu, Máiread Corrigan Maguire, Adolfo Pérez Esquivel, José Ramos-Horta, Jody Williams, Sir Joseph Rotblat, Shirin Ebadi, Leymah Gbowee, Tawakkol Karman and Kailash Satyarthi. Each Laureate has changed the world through their actions — from ending wars and conflicts, banning landmine, and protecting the rights for indigenous peoples, to ending child labor and defending free speech. PeaceJam believes that there are no better role models for today's youth.
PeaceJam trains, mobilizes and supports youth through year-long programming, leadership conferences with the Laureates and the Billion Acts of Peace platform that allows youth to log their acts of peace, document their impact with new digital portfolios and connect to a global community of changemakers.
Launched by PeaceJam and the Nobel Laureates at the United Nations Social Innovation Summit in 2014, One Billion Acts of Peace is a 10-year campaign to tackle the 10 greatest challenges facing humanity and the planet. To date, more than 73 million Acts of Peace have been logged in over 171 countries. The goal is to create a powerful wave of peace across the globe through concrete and sustainable actions that will in turn create a tipping point for change. Each year, the One Billion Acts of Peace campaign identifies the most impactful youth-led projects, and people around the world vote via social media for their favorites. Last year's 12 Hero Award winners were from communities across the globe.
PeaceJam believes that this generation of young people, together with the Nobel Peace Laureates, will create a sustainable, just and peaceful world — but they cannot do it alone and need all of us to be part of the change. Visit PeaceJam.org and Billionacts.org to get involved.
Xavier Ramey, founder and CEO of Justice Informed
Justice Informed is a Chicago-based social impact consulting firm that builds customized, human-centered strategies for clients seeking to increase their positive workplace and community impact. With a focus on relational specificity and management operations, Justice Informed works in four strategic service areas: diversity, equity and inclusion (DEI); community engagement and strategic planning; public policy-informed corporate social responsibility; and equity-focused philanthropy, for client organizations that want to catalyze their approach to inclusion, philanthropy, CSR and community engagement.
Founder and CEO Xavier Ramey is a noted social innovator, philanthropic strategist, public speaker and conflict mediator. He is also a founding member of the #LetUsBreathe Collective, an artist-activist organization committed to addressing State violence against People of Color, as well as a board member of Young Chicago Authors and the Chicago Center for Art and Technology and an activist with the Black Lives Matter movement. He brings his wealth of experience and deep network to corporations, nonprofits, activism groups, universities, startups, government offices, philanthropic organizations and more to improve institutional processes, outcomes, and environments for the 21st century.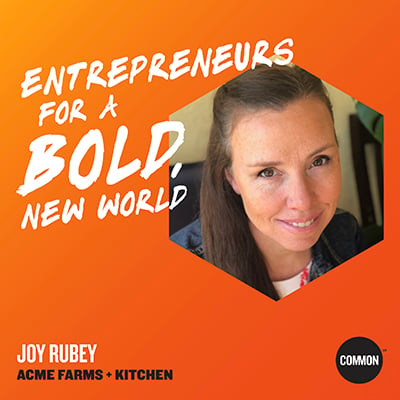 Joy Rubey, founder ACME Farms + Kitchen
Joy founded ACME Farms + Kitchen in 2011, when the birth of her daughter sent her on a mission to source the best possible food for her — real food free of chemicals, antibiotics, artificial flavors, and steroids. After researching different models around the country, she put together a system that makes it simple to shop, cook and eat local to Seattle. More than a traditional CSA, ACME delivers curated meal boxes built entirely of local ingredients. They source the best local ingredients, pair them with quick and delicious recipes, put it all together with minimal packaging and personally deliver it right to customers' doorsteps — no shipping.
Going on 9 years in business, ACME is on a mission to sell $2 billion in local, organic food. It's bigger than the dollar sign, though. What Joy is doing is designing a smarter, regionally-based infrastructure. COVID has shown us that our current food system, from capital allocation to food service channels, doesn't work in a crisis. Centralizing banking and centralized agriculture have helped produce the bottlenecks that are leading to meat shortages and farmers dumping their products because they have nowhere to sell them. So how can we think about regionalizing our infrastructures? ACME has provided one model for how to do so.
In Joy's words, "You can spend a ton of time trying to fix a broken system, or you can take all of this energy and build a better one." And now, she's making it so others can import ACME's system to cities other than Seattle. Hillary Boynton has already licensed Joy's system to bring SOL Boxes to the L.A. area, and Joy is currently working to expand ACME nationwide so that entrepreneurs all over the country can use it to improve their local food infrastructures.
Boudewijn Wijnands + David Furlong, founders of Deedmob
The need for volunteers is bigger than ever before. So much more can be done to address social problems — from climate change to homelessness, from the refugee crisis to child obesity — but over and over, governments are failing to institute the big changes needed to protect our presents, never mind our futures. By giving everyone the tools to contribute to a better world, Amsterdam-based Deedmob empowers people to take control of their futures and strengthen social safety nets.
Founded by a team of University of Oxford grads, Deedmob is a social tech startup that solves challenges around volunteer coordination and management and makes it easy for people to find and engage with charitable opportunities that interest them. They also provide companies and organizations with the tools to increase their social impact by creating volunteer initiatives and coordinating support. Deedmob's work builds stronger communities by using the latest technology to maximize the impact of volunteering. Its engaging online platform mobilizes young people (who are traditionally an underrepresented demographic among volunteers) as a force for positive change. To date, they've helped more than 1,500 charities simplify the volunteer onboarding process and increase volunteer engagement. For their work, they were named to Forbes' 30 under 30 list for Social Entrepreneurs in 2020.
Deedmob's latest initiative, Coronahelpers, is a coalition of over 150 local organizations, including municipalities, corporate partners and charities that coordinates volunteering efforts between the public, organizations, businesses and local governments to provide relief to those who need it during the ongoing COVID-19 pandemic. The platform launched on March 16th, 2020, and reached over 700,000 people in the first 3 weeks alone. Partners include the Municipality of Utrecht, TomTom, KPMG and the Red Cross to name just a few. Beyond the Netherlands, Corona helpers has already launched in the UK, Germany and Belgium, and is expanding soon to Italy, Denmark and the US.
Dan Conner, founder of Storyteller Coffee
Dan Conner founded Storyteller Coffee to change the status quo in coffee. His goal is simple: Pay farmers what their coffee is worth. Coffee is one of the most sought after beverages in the world, yet the majority of small coffee farmers in places like Honduras don't know what their coffee is worth on the international market because they don't know how to judge the quality of their own coffee. Large traders take advantage of this and get a higher value coffee for market price.
At Storyteller Coffee, they don't believe in doing business off the backs of the poor or disadvantaged. They're working to create a more equal value supply chain by paying small farmers a fair price for their coffee direct. Most roasteries buy their coffee through so many intermediaries, you can't trace where your coffee actually comes from. But Dan got into business to source the best coffee he could find while also working with farmers at every step of the quality process. He works directly at origin and with a select few importers who support many more farmers with their initiatives. He also partners with his producers to work on social projects. Right now, they're beginning to raise money to help rebuild a school in a Honduras community from which they buy.
Storyteller Coffee provides high quality specialty coffee that's transparent on where it comes from and at an affordable price that helps farms create a more sustainable business model.
Nikki Kozlowski and Heather Itzla, founders of Wisdom Supply Co.
Founded by Nikki Kozlowski and Heather Itzla, Wisdom Supply Co. produces and sources plastic-free, zero-waste school and office supplies. Nikki and Heather are plastic waste activists deeply concerned about the future of our planet, and in 2019 B-Corp awarded them best in the world for the environment category. Some of their products include a 100% recyclable weekly planner, a zero-waste binder and a recyclable aluminum pencil tin. Most every product in corresponding categories currently on the market will end up in a landfill.
Wisdom Supply Co. addresses the urgent need to move away from plastic waste from two different directions – by setting new standards for production and reducing pointless consumption. Most producers flat-out ignore the afterlife of their products, mass producing garbage out of toxic materials that will end up in a landfill, polluting the planet for millenia. Wisdom Supply Co. scrupulously combs over every detail of their products, talking with local recyclers and waste haulers about global demand for post-consumer waste so that they know for sure the products they make will have value when they leave customers' hands.
On the opposite end of a product's lifecycle, Heather and Nikki address the lack of awareness around consumption, especially as targeted to young people. Starting in kindergarten, parents are asked to fulfill these extremely detailed, almost 100% exclusively plastic and vinyl lists for their student's school supply needs. Back-to-school shopping is the second largest shopping season in the nation right after the Holiday season, almost all of the products on the market are intended to last a year and wind up in landfill — they're shiny, glittery and pizzazzy to entice young people to buy more. From a very young age, we enlist students onto this purchasing treadmill, without any awareness about the effects on the planet that will directly and negatively impact their future. This mindset trains them to believe that they will be smarter, better, and happier with more stuff and that is simply not true. The tools we ask students to use for their education should not be tied to the very climate injustices we are asking them to solve.
Over their four years in business, Wisdom Supply Co. has prevented roughly five tons of plastic waste! This year, they've curated two Zero-Waste Back-to-School Kits that can be customized for any student's needs from Pre-K up through college that will be available for purchase in mid-July. They'll be releasing 2021 Zero-Waste Weekly Planners, Zero-Waste Binders with replaceable, recyclable covers, as well as Recyclable Folders.