Many of our members are at the early stage of their existence. And that is why we created the community. To help social entrepreneurs feel more certain about their place in the market. To add value to brands and expand their value proposition. And to help where we can, and provide an experience that utilizes 21st-Century tools (e.g., Slack) and responsive frameworks (e.g., Working Rhythm) so each interaction functions as training in real time that you can apply to your business and increase your ability to compete in a faster, flatter marketplace.
To those ends, we have created a series of virtual programs to help you develop the habits and practices to accelerate your business and foster more interaction between all of us. They are:
1. Weekly Rhythm. The Foundation To Being A Responsive Org.
2. Monthly Retrospective & Bi-Monthly Customer Sensing.
3. Your Organization Charter. Giving Order To Organizations.
4. Articulating Your Value Proposition. Going Beyond Social Benefit.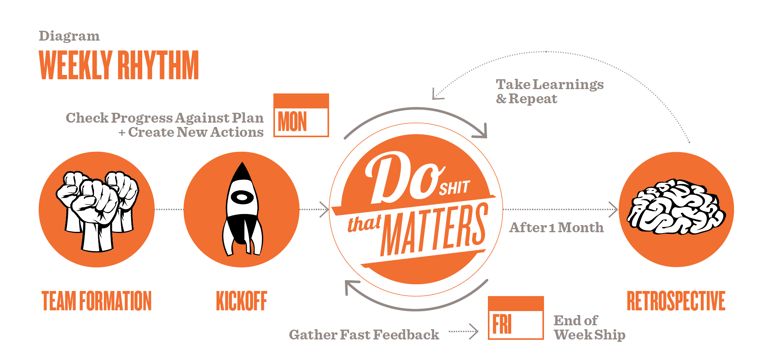 WEEKLY RHYTHM & MONDAY PLANNING
THE FOUNDATION TO RESPONSIVE ORGS
These weekly group 60-minute sessions will help you develop a consistent working rhythm and ensure that you are planning your week versus reacting to things as they pop up. If you are not getting to the things that have the most impact on your business or having a hard time tracking everything that needs to get done, join us.

Occurs: Every Monday
Time: 10:00 am PST – 11:00 am PST
Details: Registration results in a re-occurring calendar appointment. Participation each week is not required.


Register Here
Required Tools/Resources:
Access to your Trello Account and Team Page that COMMON created for you. Notebook, or other project management platform.
Access to your Chop Wood Carry Water Board in Trello.
Link to make a copy of the Chop Wood Carry Water Template if needed
Learn About Weekly Rhythms :
H
ere
MONTHLY RETROSPECTIVE
BI-MONTHLY CUSTOMER SENSING
Very few businesses take the time to assess whether or not how they are working is actually working. And rarely do we pause to sense changes (sudden and gradual) in what our customers want and need. To ensure that we are learning and adapting at regular intervals, we host Monthly Retrospectives and Bi-Monthly Customer Sensing.

Occurs: The last Monday of each month
Time: 1:00 pm ET – 2:00 pm ET (In place of the Monday Planning Session)
Details: Registration results in a re-occurring calendar appoint. Participation each month is not required.

Register:
Here
Required Tools/Resources:

Access to your Trello Account/Team Page

Link to make a copy of the Template for Retrospectives if needed
Learn More About Retrospectives: Here
YOUR ORGANIZATIONAL CHARTER
GIVING ORDER TO YOUR ORG
Making sense of the mess that is an organization is challenging; especially when you are just getting started. After all, business is the commercialization of human interaction and well, people are messes of complexity. "Your Organizational Charter" is a four part series that will result in a single document that will help you hold your organization together as an intelligible mental model as you navigate. Recommended for anyone regardless of business stage.
Dates: Happens the 1st & 3rd Quarter Of Each Year
Times: 1:00 pm PST – 2:30 pm PST
Occurs: Weekly over 5 weeks


Participation: Required for all 5 sessions. (Do not register unless you can commit to all of the sessions)



Details:
Registration results in a re-occurring calendar appointment

Participants are given weekly assignments

Tools/Resources: Will be provided

Register Here: TBD
Register Here: TBD


Learn More About Charters:

Here
YOUR VALUE PROPOSITION
GOING BEYOND SOCIAL MISSION
Social entrepreneurs often point to their social mission when asked about their value proposition. The truth, however, is that social impact is typically the last form a value that people consider when making purchasing decisions. "Articulating Your Value Proposition," is a 3 part series that will guide you through the process of thinking about your customer's needs and mapping them against your offering. The result will be the essential component of your value proposition and a thought framework to be more effective in sharing and selling your business.



Dates: Happens the 2nd & 4th Quarter Of Each Year
Times: 1:00 pm PST – 2:30 pm PST
Occurs: Weekly over 5 weeks


Participation: Required for all 5 sessions. (Do not register unless you can commit to all of the sessions)
Details
Registration results in a re-occurring calendar appointment

Participants are given weekly assignments

Tools/Resources will be provided
Register Here: TBD
Learn more about Value Propositions:
Here