 •

•

•

•

•

•

•

•

•

•

•


12:30 - 2:30 pm MT
Private Lunch and VIP Member Celebration/Acknowledgment

3:30 pm - 6:30 pm MT
Breaking Their Silence Film Screening • Q&A with Kerry David

7:00 pm - 9:00 pm MT
Welcome Reception 8:00 am MT
Doors Open

9:00 am - 10:00 am MT
Welcome and Introduction

10:00 am - 11:00 am
Talk • Maggie Fox
Changing Culture

11:30 am - 12:30 am MT
Talk • Rob Schuham
The Future Of Capitalism

12:30 pm - 2:00 pm MT
Got To Lunch With An UN-SUMMITer

2:00 pm - 3:00 pm MT
Interactive Activity Breakouts

3:00 pm - 4:00 pm MT
Talk • TBD Breakouts

4:00 pm - 5:00 pm MT
Open Source Programming

5:00 pm - 6:00 pm MT
TBD 8:00 am MT
Doors Open

9:00 am - 9:30 am MT
Welcome and Introduction

9:30 am - 10:15 am
Talk • Joe Huff
Running A Social Enterprise After You Scale

10:15 am - 11:45 am MT
Breakouts
Open Source Programming

12:00 pm - 1:30 pm MT
Got To Lunch With An UN-SUMMITer

1:30 pm - 2:00 pm MT
Interactive Activity

2:15 pm - 3:45 pm MT
Breakouts
Open Source Programming

4:00 pm - 4:45 pm MT
Talk • TBD

4:45 - 5:15 pm - 6:00 pm MT
Closing Remarks

6:00 pm - Evening Celebration
XXX • TBD
What is an UN-SUMMIT?
A gathering of FearLess savants, rock stars, and badasses (yes, that's you and your fellow COMMONers) who know that saving the world has to be fun – or else no one will do it.
Who Can Attend?
Anyone is welcome as long as they are fun and believe in the power of community.
Why Should I Attend
The snarky answer is: "Have you looked outside, read a paper, or watched the news lately?"
A better answer is: We've been working with social entrepreneurs and socially responsible brands for a long time. And while we've gotten extremely good at leading powerful digital and remote experiences, there is no substitute for spending time together, in person.
The bottom line? We cannot affect big change unless we come together in real time. Full stop
What's The Program?
The program will be a mashup of:
1) Talks by thought leaders, spearheading conversations about the broader dynamics and complexities affecting the field of social enterprise in 2020.
2) Hands-on workshops facilitated by subject matter experts to address everyday the challenges of operating a social enterprise.
3) Impromptu, in the moment, open-sourced discussions, work sessions and activities created and led by UN-SUMMIT participants (like you).
What's the Point with the Format...Really?
We are a collaborative community. That's the point. The best moments are those that enable us to learn from each other and encourage each of us to contribute to the overall experience. We are interested in what you have to say, how you can help your fellow UN-SUMMITers become better at what they do and what roles you can fill so you walk away feeling connected, inspired and like it was your UN-SUMMIT rather than just a thing you attended.
Hours and Schedule?
Wednesday, May 13th: 7:00 pm- 9:00 pm MT
Thursday, May 14th: 9:00 am 6:00 pm MT
Friday, May 15th: 9:00 am – 5:00 pm MT
• Early Bird: $299.00 (USD) per person. Feb 15th thru Mar 15th
• On Time: $499.00 (USD) per person. Mar 16th thru May 1st.
• Just Made It: $699 (USD) per person. May 2nd on.
Tickets include admission to all UN-SUMMIT scheduled events.
May 12th – 13th: Syntropic Enterprise Masterclass: Learn tools and models to create business for a world with a future with Christine McDougall, COMMON member and Founder of Syntropic Enterprise. This is a 1.5 day Pre UN-SUMMIT Workshop on May 12th & 13th.
May 13th: Film Screening: Breaking Their Silence + Q&A with director and producer, and COMMON member, Kerry David.
May 15th: Evening Celebration: Join the COMMON team and UN-SUMMIT participants for a night on the town.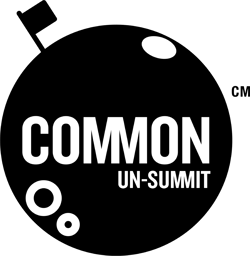 Boulder, CO Location Will Be Announced Soon.