Dear Social Entrepreneur,
Imagine what it would be like to double your social impact and growth in the next few months…
Resources would skyrocket…revenues would jump…you'd be able to pay yourself more… you'd finally see the impact of being a social entrepreneur hard work in the world…you'd feel secure that your commitment to social entrepreneurship was on sound footing.
So ask yourself… are you fed up with working around the clock, feeling alone, spending your hard-earned dollars on solutions that cost you more than they make you?
Are you sick and tired of fighting for access to the exclusive world of venture capital, being told that you need to relocate your life to accelerate your business, and struggling to find partners who align with your values? Are you tired of feeling like you are not making the impact your social enterprise was designed to make?
Then stop the stress and frustration of trying to guess how to grow your social business and put our proven strategies and tactics to work.
Our collaborative approach to accelerating socially responsible organizations has helped move the needle on countless social and environmental issues and generated millions in sales for our community members and clients.
These results are not in just one specific niche. No, we've successfully deployed these strategies in over 20 different industries and with organizations in 27 industries by leveraging our methodologies combined with the power of a global network of creative visionaries and innovative professionals to maximum effect. Our approach has been used to help hundreds of businesses up their game, challenge the status quo, attract customers, earn media attention and more….and rightly so.. Like you, they are fighting every day to impact the world and make life better for everyone.
Sounds hard to believe, well it's true. In fact, we're so confident we can help you that we'll even guarantee results – if we don't help you reach your KPI's you stop paying membership fees until we do!
No other community or incubator dedicated to social entrepreneurship will dare do this! Don't believe us? Just ask around and see if anyone will guarantee results.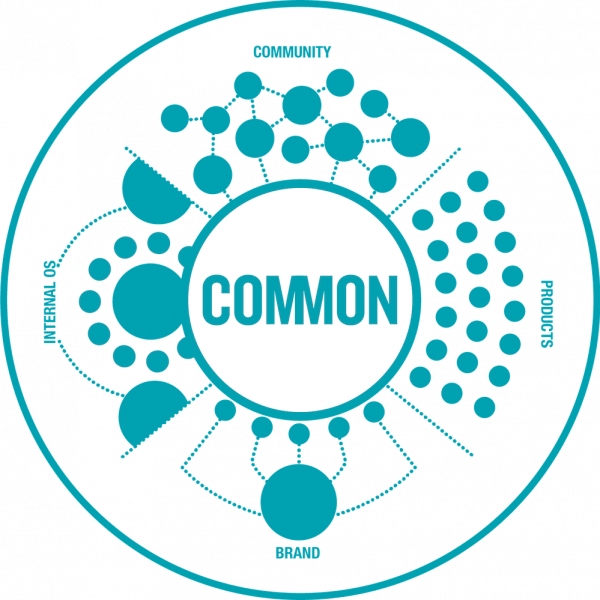 LET'S BE CLEAR ABOUT WHAT WE MEAN BY
30 DAY FREE MEMBERSHIP AND
90 MINUTE STRATEGY SESSION
Let's be clear about what we mean by 30 Day Free Membership and a 90 Minute Strategy Session.
COMMON is one of the leading communities in the field of social entrepreneurship. For thirty days, you will receive access to our private community on Slack, an invitation to ongoing virtual work sessions, webinars, and of course, our members.
Your 90-minute strategy session will focus on:
Your Brand. How to ensure that it resonates with masses of people and attracts them to you.
Your Products. We'll review your product offering(s) and provide insights and recommendations for how to improve them and ensure that they are what people want.
Your Operating System.

Culture is your system of work. And it is the last sustainable advantage you can have. We'll review yours and share ways to ensure that you can compete.
Your Community.

The markets move too fast for any person or entity to keep up on their own. Being part of an ecosystem, or community, that is organized around slow or sudden change is critical to your success. We will review your ability to be in and leverage collaborative relationships and participate in new models that are redefining how business is done.
Yes! i want a 30 day membership and a
strategy session for my business for free.
Here's how It works. First we'll review your business, peek at what your competitors doing, analyze your target market, your sales processes and your goals with you. Then, based on what you tell us, we'll develop a custom digital marketing plan specifically for you …free.
Everything we discuss is specifically tailored for your business after we've had a chance to ask you about your brand strategy, your products sales process, sales goals, approach to getting work done, and the make up of your community. There is no charge for this and there is no Catch.
We do this because many people who go through this process are so impressed and happy, they ask to join or community and hire use to drive their marketing and advertising.
Please note this is not a sales call. We usually charge $1,000 or more for this kind of comprehensive business analysis and planning. You'll be speaking with one of our experts who will come up with a plan tailored to your business to maximize the four areas of you business, but especially your leads and sales. There's no obligation for you to take up any of our services or join our community.
"I would not be where I am today if it were not for COMMON."
"In 18 just months we have become one of the fastest growing startups in our industry."
"There is no organization the blends getting things done and community that even comes close."